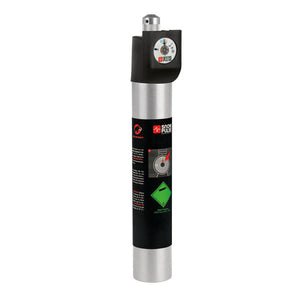 Highmark By Snowpulse Empty Snowpulse Air Cylinder
Highmark By Snowpulse
Regular price $225.00 $225.00 Sale

Empty Snowpulse Air Cylinder
The Snowpulse Series 2.0 Canister is compatible with all Mammut and Highmark Avalanche Airbags. This Empty Snowpulse Air Cylinder is a refillable canister, filled with dry, compressed air. Cylinders can be refilled at any authorized refill station, SCUBA or Paintball shop.
This canister works with both Snowpulse 2.0 and Snowpulse 3.0 Inflation systems.
Each Canister comes equipped with a burst disc installed and a 3-pack of extra burst discs, which will need to be replaced every time you deploy the avalanche airbag.
---
Carbon or Aluminium?
Good question! The only cylinders available in North America are the aluminum canisters - fully rechargeable and refillable.
---
Specs
Pressure: 207 bar / 3000 psi
Filling at licensed dealer: Yes
Filling: Compressed Air
Aluminum cartridge filled with compressed air
Simple, independent refilling possible
Filling pressure can be controlled via an integrated pressure gage
One refill kit (pack of 3) supplied with the product
Compatible with Removable Airbag System (R.A.S.) and Protection Airbag System as well as with Snowpulse® avalanche airbags from winter season 2011-2012
Available filled ex-factory or empty
Unfilled weight [g]625
Filled weight [g]700